Baseus 20W Black Digital LED Display Dual Wireless Charger Pad
The Baseus 20W Digital LED Display Dual Wireless Charging Pad offers you a futuristic wireless charger that lets you power 2 Qi wireless-charging-enabled devices simultaneously without having to connect any cables. Leave your space mess-free with Baseus.
Key Features
Charge 2 devices simultaneously
20W fast wireless charging
Automatic charging
Solid workmanship
Modern & futuristic design
​LED battery indicator
Security recognition
Heat protection technology
Compatible with all Qi-enabled devices
Beschreibung

Charge 2 devices simultaneously
This Baseus Wireless Charging Pad is equipped with two independent induction coils, so you can charge 2 Qi-compatible devices simultaneously! This is a significant time saver when you can simultaneously charge, for example, a smartphone with 15W or a smartphone and headphones (15W + 5W) or two smartphones (10W + 10W).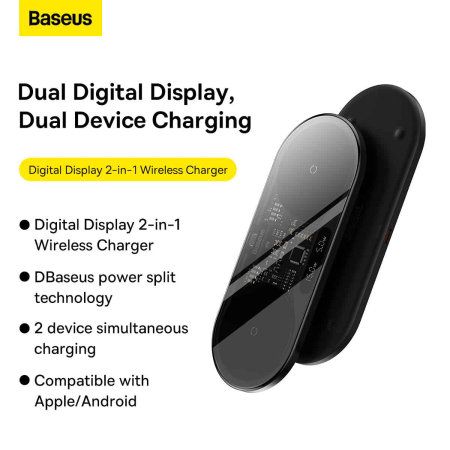 20W fast wireless charging
Say goodbye to cables cluttering your space with the Baseus Black 20W Wireless Charging Pad. Power up your smartphone without having to connect any cables to your smartphone. Simply place your Qi-compatible device onto the wireless charger to power up quickly, so you can spend the rest of your day on the go.
Automatic charging
Thanks to the Qi technology used in the device, charging starts within 0.1 seconds from the moment you bring your phone closer to it. It's a great convenience that you don't have to connect cables or run relevant applications.
Solid workmanship
To make this wireless charging pad, Baseus used aviation alloys that allow for more efficient charging at low temperatures. Aluminum guarantees a stable flow of energy, without interruptions or slowdowns. A constant pace of work is maintained without the risk of overheating and its consequences.
Modern & futuristic design
The transparent elements on the panel make the hardware equipment, such as the chip, safety circuit, and other components, visible. This Baseus Wireless Charging Pad has a minimalist design and a hidden type-C input that is compatible with the most modern devices on the market. It allows for stable and effective charging. In addition, this wireless charging pad has a wear-resistant foam cushion with anti-slip properties providing the phone with optimal stabilization while charging.
LED battery indicator
One of the great things about this Baseus Wireless Charging Pad is that with this charger, you can check the charging power output in real time, so you know when to recharge it.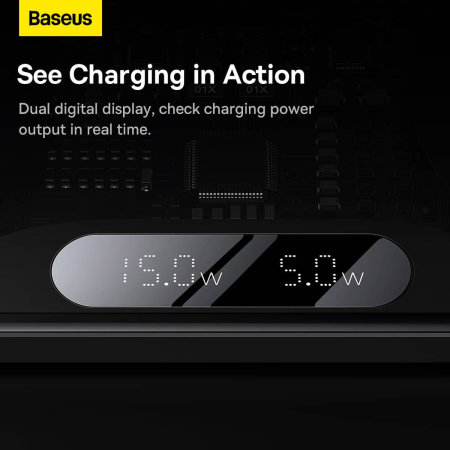 Security recognition
Baseus has used as many as 6 protections that significantly increase the comfort of using the charger. They concern protection against overheating, overload, presence of a foreign body, overvoltage, or electromagnetic field. This is possible thanks to the use of a function such as automatic sleep mode when the phone is fully charged, which saves battery and protects against overheating.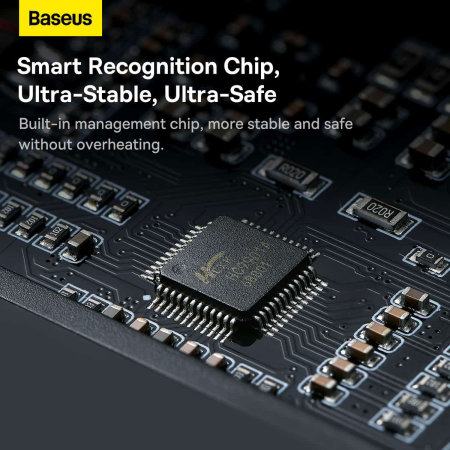 Heat protection technology
Overheating protection is built into the charger. Due to the fact that during operation it generates lower temperatures than devices in previous versions, the risk of fire or melting of the housing is practically non-existent even during long charging.
Compatible with all Qi-enabled devices
This Baseus 20W Wireless Charging Pad is compatible with all Qi-enabled devices including Apple, Samsung, Google, Xiaomi, etc!
Was befindet sich in der Box?
1 x Baseus 20W Black Digital LED Display Dual Wireless Charging Pad
1 x 3A 1m USB-C cable
Wesentliche Details
| | |
| --- | --- |
| Part No | WXSX010101 |
| UPC | 6932172612672 |
| Mobile Fun ID | 93867 |
| Farbe | Schwarz |
| Brand Name | Baseus |
Lieferung & Retouren
Warensendung - Versandkosten: 4.99 CHF
Zustellung ab Versand: in 4-8 Werktagen.
DHL Express: 27.99 CHF
Zustellung ab Versand: in 1-2 Tagen bei Bestellung vor 17 Uhr


HINWEIS: Sie können die Standardzustellung nur mit einem Einkaufskorb unter CHF 70 auswählen. Ist dies der Fall, müssen Sie eine nachverfolgbare Zustellungsmethode auswählen.
Wenn Ihr Warenkorb über CHF 100 liegt, müssen Sie aus Sicherheitsgründen DHL Express wählen.


Notiz:
Die voraussichtlichen Ankunftszeiten werden direkt den Angaben unserer Kuriere entnommen. Dies sind nur Schätzungen, MobileFun ist nicht verantwortlich, wenn dies variiert. Alle Produkte werden aus unserem Lager in Großbritannien versendet. Fehlende oder verspätete Artikel: Bitte beachten Sie, dass wir 20 Arbeitstage warten müssen, bevor wir verlorene Artikel zurückverfolgen, ersetzen oder erstatten können. Der Postdienst steht für Bestellungen mit hohem Wert nicht zur Verfügung, es wird die Expressversandmethode angewendet.