Baseus 3-in-1 USB to Lightning, USB-C & Micro USB Retractable Charge and Sync Cable - 1.2m
Looking for the ultimate travel cable? Look no further than the Baseus Retractable 3-in-1 Charging Cable! With a retractable 1.2m long USB-C, Micro USB and Lightning cable, you can charge up to 3 devices at once, without your cables tangling together!
Key Features
Charge 3 devices simultaneously: USB-C, micro USB and lightning
Perfect travel accessory
Quick and intelligent charging
5 charging lengths
Sleek aluminium and fabric design
Beschreibung


One for all, the perfect accessory for all devices with USB-C, micro USB and Lightning ports. Why use 3 cables when one is enough?
Charge 3 devices simultaneously: USB-C, micro USB and lightning
The Baseus cable offers you a streamlined and versatile solution that enhances the quality and convenience of your daily charging routine. It features a USB-A charge and sync cable that can charge up to 3 devices with three distinct ports, accommodating devices such as Apple, Android, Kindles, and many more.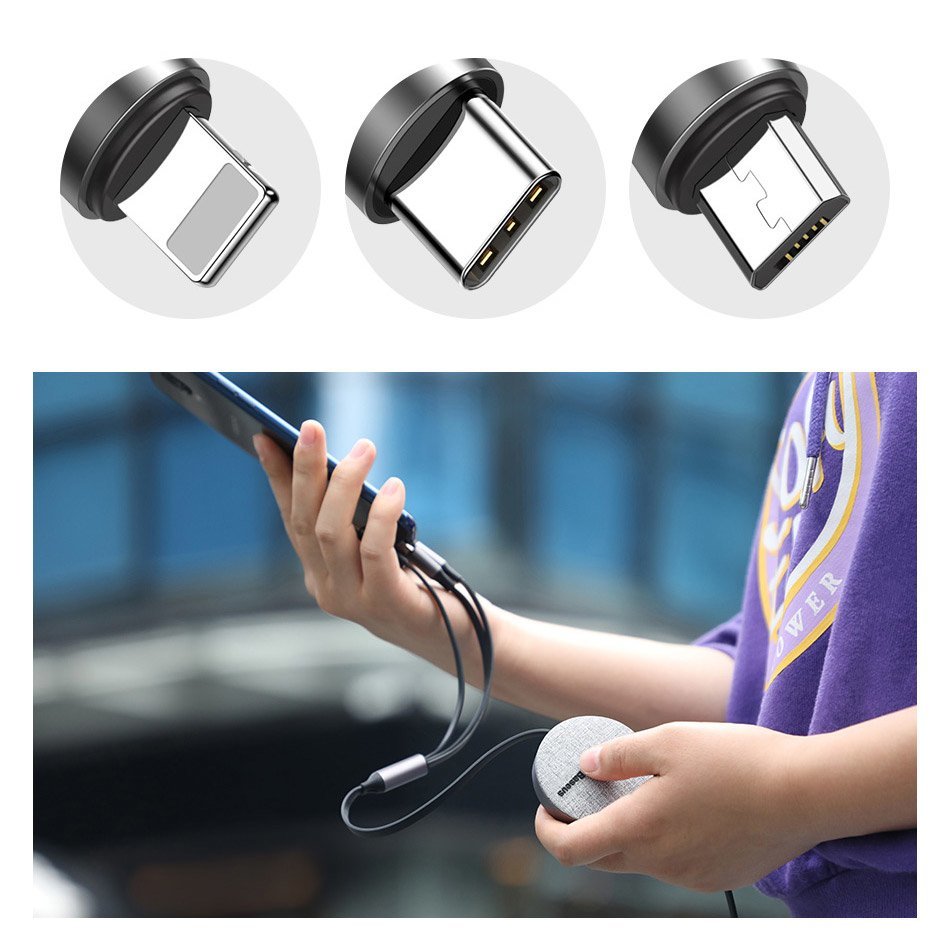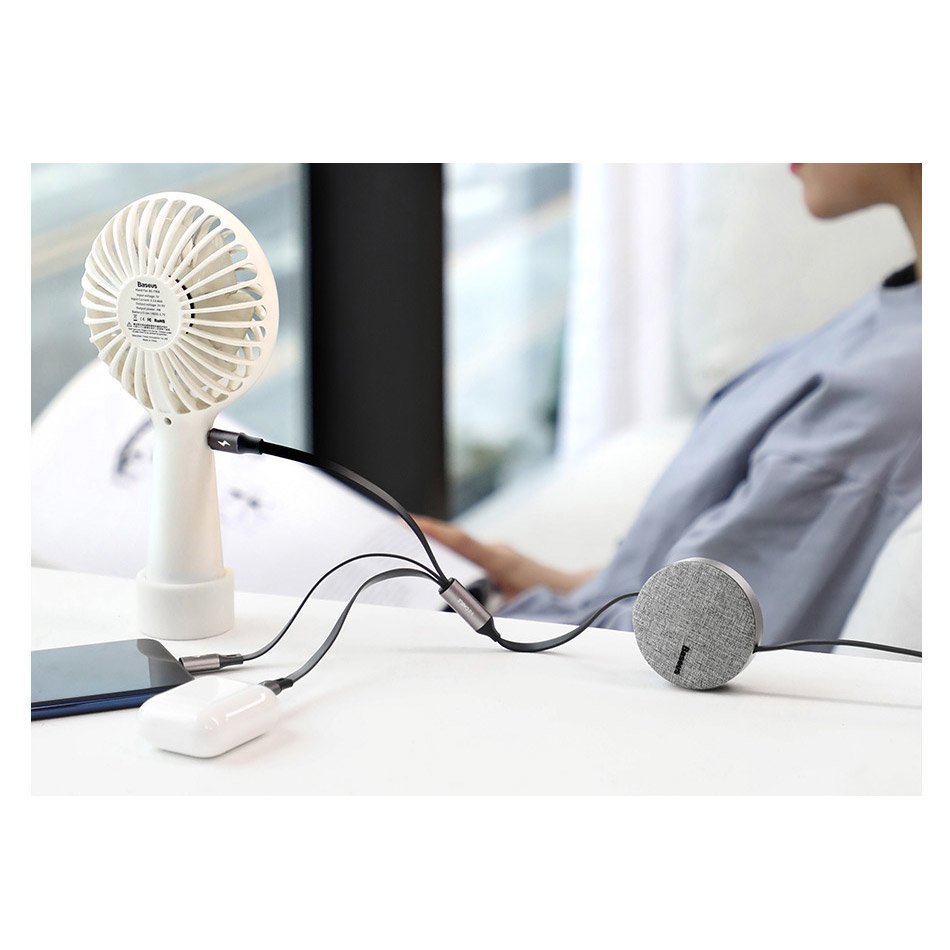 Perfect travel accessory
The Baseus 3 in 1 cable is wound on a round handle, making it a compact solution for all your charging needs. It has also undergone over 5000 tests – rolling up, plugging in and out - and the results confirm that the life of this product is long. Not only is the product quality tested but it is also easy to use - simply pull on the cable to the desired length to unwind it from the circular housing!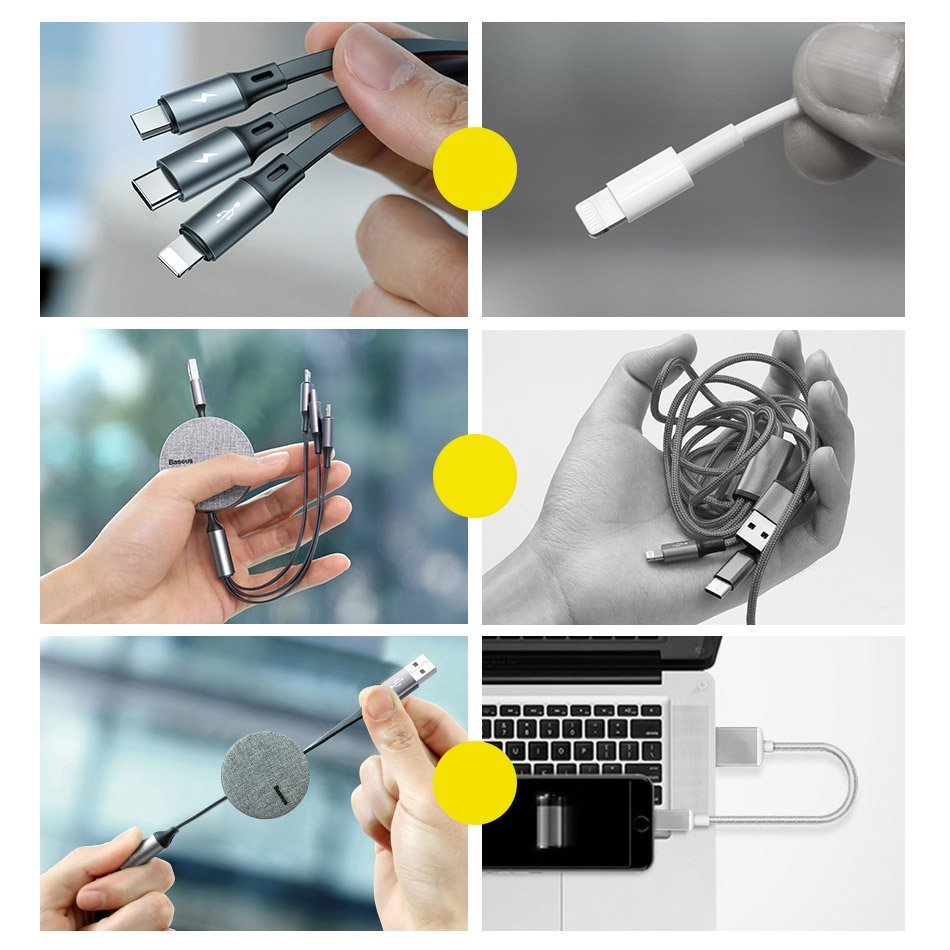 Quick and intelligent charging
Baseus guarantees quick and safe charging of each device connected which is all thanks to the strength of 3.5A and tin-plated copper wires. Engineered to work in harmony with the smart charging management unit which adapts its voltage to the specific device being used - making charging completely safe and controlled.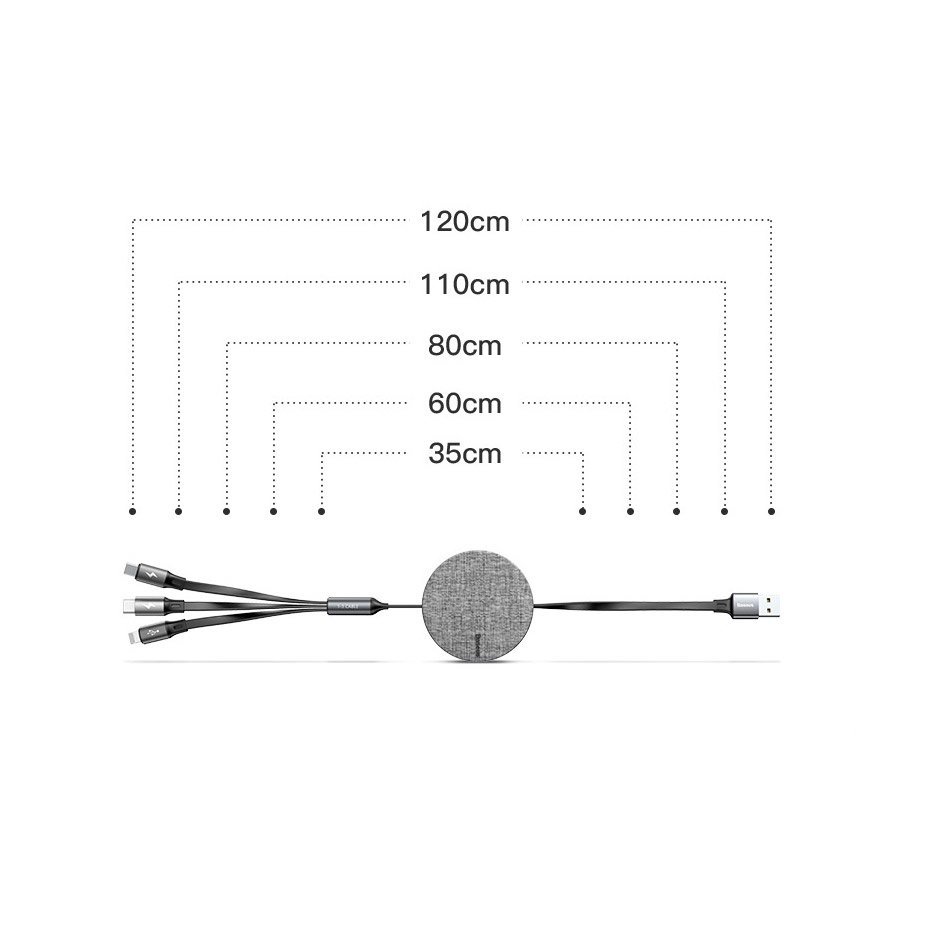 5 charging lengths
The Baseus 3 in 1 cable was designed with your needs in mind. The cable has 5 pre-set length options, allowing you to maximise your options based on your environment, while its non-tangling flat TPE cables make your charging experience even more streamlined.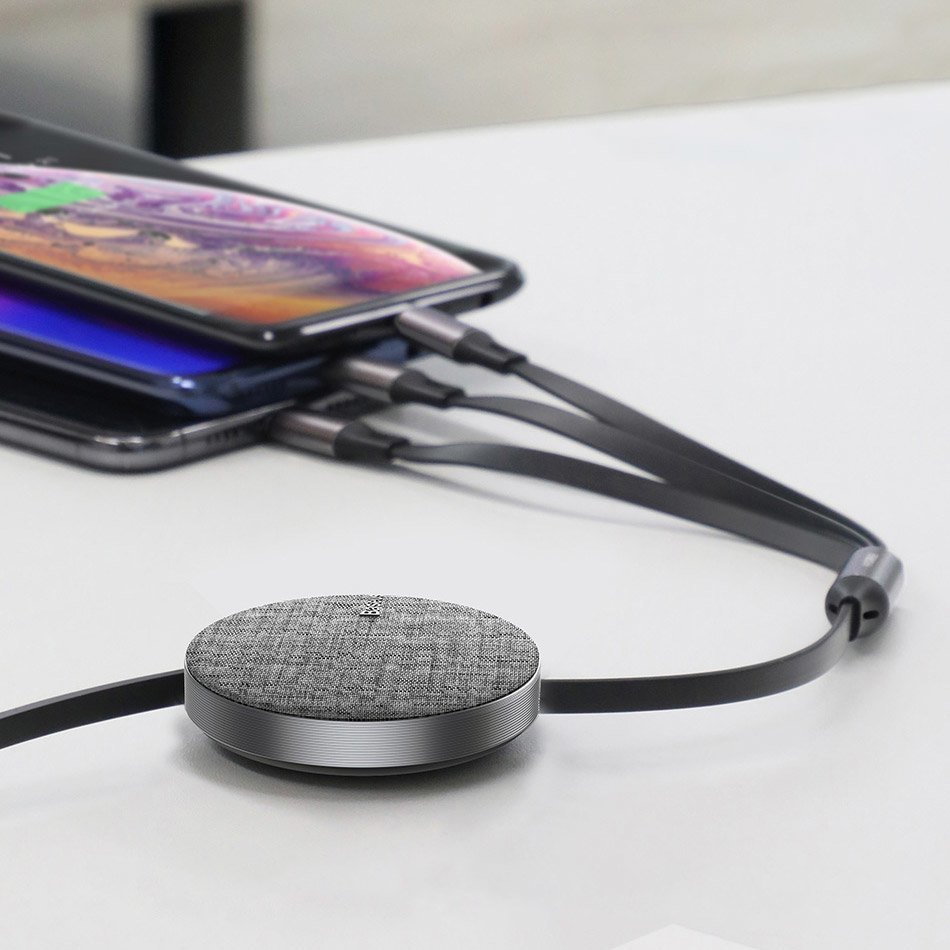 Sleek aluminium and fabric design
Made of aluminium, which is resistant to oxidizing, abrasion and mechanical damage - perfect for a durable product like a charger. Not only is aluminium a perfect choice for a resistant product it is also a beautiful metal that gives everything a premium feel, which coupled with its fabric finish makes this not only a practical but also a beautiful accessory.
Specifications:
Ports: USB / USB-C / micro USB / Lightning
Material: Cloth + aluminum + TPE
Strength: 3.5A (Max)
Transmission rate: 480 Mbps
Functions: charging / data transmission
Compatible with: devices with USB-C / micro USB / Lightning ports
Compatible Phone OS: Android, iPhone
Wesentliche Details
| | |
| --- | --- |
| Part No | 6953156289116 |
| UPC | 6953156289116 |
| Mobile Fun ID | 96704 |
| Farbe | Grau |
| Brand Name | Baseus |
Lieferung & Retouren
Warensendung - Versandkosten: 4.99 CHF
Zustellung ab Versand: in 4-8 Werktagen.
DHL Express: 27.99 CHF
Zustellung ab Versand: in 1-2 Tagen bei Bestellung vor 17 Uhr


HINWEIS: Sie können die Standardzustellung nur mit einem Einkaufskorb unter CHF 70 auswählen. Ist dies der Fall, müssen Sie eine nachverfolgbare Zustellungsmethode auswählen.
Wenn Ihr Warenkorb über CHF 100 liegt, müssen Sie aus Sicherheitsgründen DHL Express wählen.


Notiz:
Die voraussichtlichen Ankunftszeiten werden direkt den Angaben unserer Kuriere entnommen. Dies sind nur Schätzungen, MobileFun ist nicht verantwortlich, wenn dies variiert. Alle Produkte werden aus unserem Lager in Großbritannien versendet. Fehlende oder verspätete Artikel: Bitte beachten Sie, dass wir 20 Arbeitstage warten müssen, bevor wir verlorene Artikel zurückverfolgen, ersetzen oder erstatten können. Der Postdienst steht für Bestellungen mit hohem Wert nicht zur Verfügung, es wird die Expressversandmethode angewendet.