iOttie 10W Easy One Touch 2 In-Car Wireless Charger Dash Mount - For Android and iPhone
Easily & safely wirelessly charge your device with this sleek & compact 10W iOttie One Touch Wireless 2 Dash/ Windscreen Mount. Securely position your phone with the suction cup, whilst knowing your device is charging safely & secure at your chosen angle!
Key Features
Provides in-car wireless charging for your Qi-enabled phone
U.S-patented Easy One Touch mechanism
Adjustable foot with a button
Telescopic, extendable arm
Suction cup to install
Sleek and compact design to match your handset
Beschreibung
Want to conveniently read Google Maps and charge your phone at the same time? Well, with this high-quality, sleek, charging mount from iOttie you can do just that! Fit your device to the wireless charger safely and use your device hands-free in the care! Be able to read directions safely whilst knowing your phone is safely charging.


Provides Fast In-Car Wireless-Charging For Your Qi-Enabled Phone
Designed for quick and intuitive fast charging, the iOttie Qi Wireless Charging Car Holder/Charger allows you to safely and quickly charge your Qi-enabled smartphone without the mess of charging cables. The iOttie car holder uses Qi induction technology to charge your phone quickly and easily once it is placed into the holder. For more information about wireless charging click the 'Wireless Charging Guide' banner above.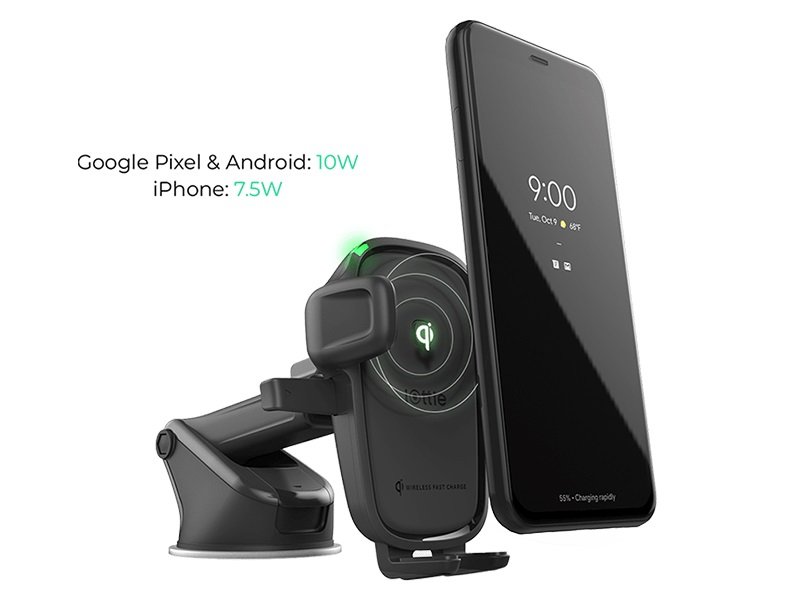 US patented Easy One Touch mechanism
This new Easy One Touch 2 technology has new patented technology, which offers a perfect one-handed motion, allowing you to safely focus on the road ahead - making road trips a breeze!
Adjustable Mount Size - Perfect For Every Device
The lower portion of the iOttie car mount is adjustable - allowing you to align your device for seamless wireless charging. Simply push the bottom (or foot of the mount) for a smaller device, or easily pull it down for a bigger device (up to 6.3") perfect for the pro and max devices of today's market!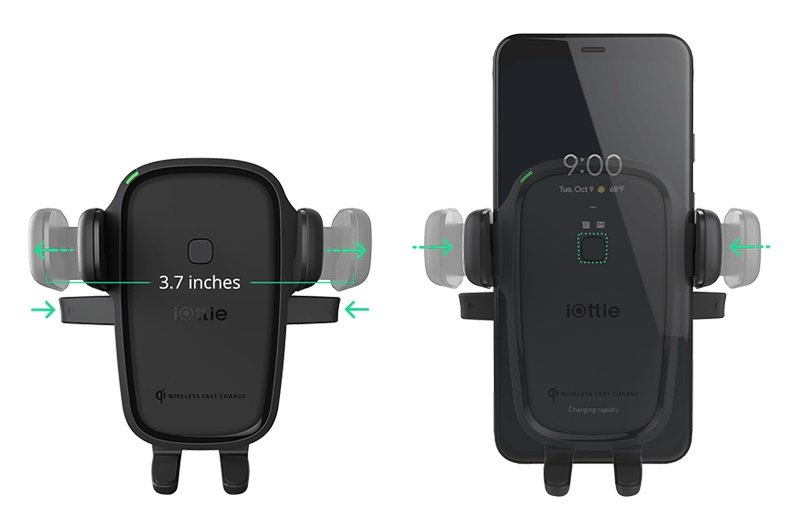 Telescopic Extendable Arm
Unlike other in-car phone mounts, the iOttie Easy One Touch 2 In-Car Wireless Charging Dash Mount features an extendable arm - which offers a 225-degree arc - allowing for a huge variety of optimal viewing angles! Not only that, but it also extends up to 8.3", meaning you can really have your phone in any position which suits you!
Easy To Install Suction cup
This mount attaches to your dashboard or windscreen through a super-strong suction cup. It is just as easy to remove as it is to install - if you've bought a new car, or just need to adjust the positioning, simply rise the suction cup with a small amount of water and lift it from the dash! When you're ready to reinstall the mount simply follow the easy instructions to stick it back to the dash and you're ready to go!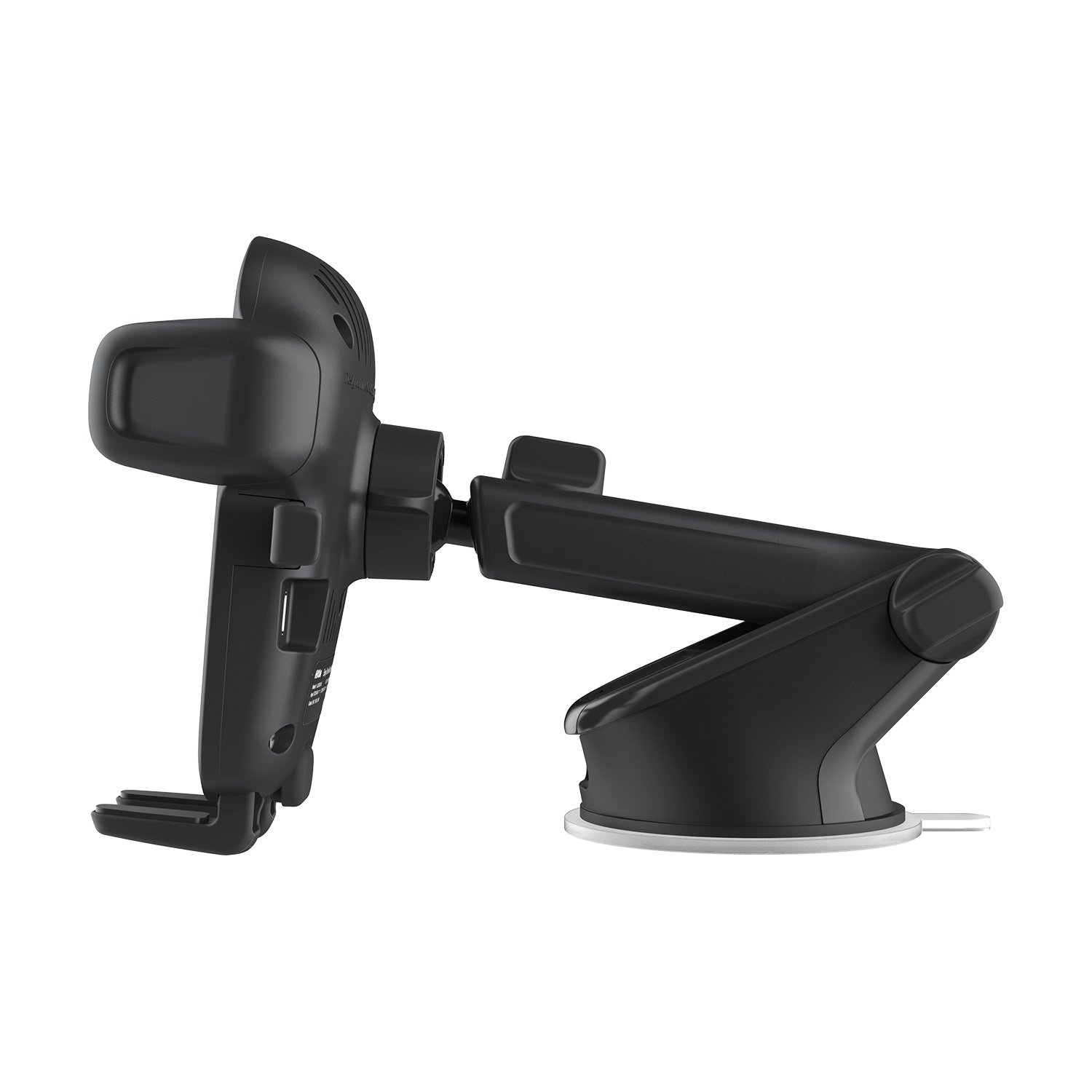 Sleek and compact design to match your handset
Designed to perfectly complement your Handset, the iOttie in-car phone mount is designed to reflect the contemporary and sleek styling of all recent smartphones, functional and attractive all in one device!
PLEASE NOTE: Not all handsets support wireless fast charging 'out of the box'. Certain smartphones will require an adapter to be able to perform wireless charging at all, please check your phone supports Qi wireless charging and wireless fast charging before purchasing. For more information please click the 'Wireless Charging Guide' above.
Wesentliche Details
| | |
| --- | --- |
| Part No | HLCRIO142 |
| UPC | 0852306006527 |
| Mobile Fun ID | 65431 |
| Farbe | Schwarz |
| Brand Name | iOttie |
Lieferung & Retouren
Warensendung - Versandkosten: 4.99 CHF
Zustellung ab Versand: in 4-8 Werktagen.
DHL Express: 27.99 CHF
Zustellung ab Versand: in 1-2 Tagen bei Bestellung vor 17 Uhr


HINWEIS: Sie können die Standardzustellung nur mit einem Einkaufskorb unter CHF 70 auswählen. Ist dies der Fall, müssen Sie eine nachverfolgbare Zustellungsmethode auswählen.
Wenn Ihr Warenkorb über CHF 100 liegt, müssen Sie aus Sicherheitsgründen DHL Express wählen.


Notiz:
Die voraussichtlichen Ankunftszeiten werden direkt den Angaben unserer Kuriere entnommen. Dies sind nur Schätzungen, MobileFun ist nicht verantwortlich, wenn dies variiert. Alle Produkte werden aus unserem Lager in Großbritannien versendet. Fehlende oder verspätete Artikel: Bitte beachten Sie, dass wir 20 Arbeitstage warten müssen, bevor wir verlorene Artikel zurückverfolgen, ersetzen oder erstatten können. Der Postdienst steht für Bestellungen mit hohem Wert nicht zur Verfügung, es wird die Expressversandmethode angewendet.