Ksix Dual Phone Tripod Holder & Rechargeable 12" LED Ring Light
Want perfect lighting for your selfies, TikToks & livestreams? This dual phone holder does just that. Featuring a tripod which securely holds 2 devices & a LED light with 3 light temperatures & 10 intensities, you'll always get the perfect photo with Ksix
Key Features
Perfect for filming, vlogging and recording reels
Holds 2 phones at once
Tripod adjusts up to 1.6m
LED ring light has 3 temperatures and ten brightness levels
Sturdy design allows for high-quality film
Foldable construction for easy carrying and storing
Beschreibung
Perfect for filming, vlogging and recording reels
No matter what content you want to create, this photography kit will allow you to create it - and with perfect lighting and a crisp, clear image. Whether you want to film a short movie, you want to record a quick reel or you want to use this as the base for creating the perfect video; whatever it is, you can adjust the height of the tripod and change the lighting to fit your needs.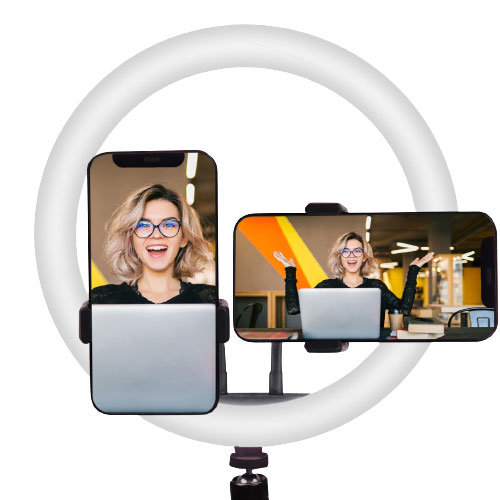 Holds 2 phones at once; perfect for multitasking
You don't have to swap between different phones and social media platforms anymore, with this innovative product you can finally do everything you need to do online at the same time on both of your phones. Pop your 2 phones on the mount and start streaming to your numerous followers. Work smart, not hard.

Adjustable height for use either on a desk or floor
This tripod is completely adjustable, allowing you to choose how to use it. Place it on a desk and be able to film every emotive reaction whilst you game, place it on the floor and record your new TikTok dance, stand it on a table to be able to film a sit down YouTube video; the choice is completely yours with Ksix.
LED ring light has 3 temperatures and ten brightness levels
Having the right lighting is so important when taking a photo or recording a video - without the lighting, a picture can lose all clarity and quality. It can end up with the room looking too orange, too dark, too pale. To avoid this happening, Ksix have designed the inbuilt LED light to have 3 temperatures and 10 brightness levels, meaning that you'll never have poor lighting for your photo again.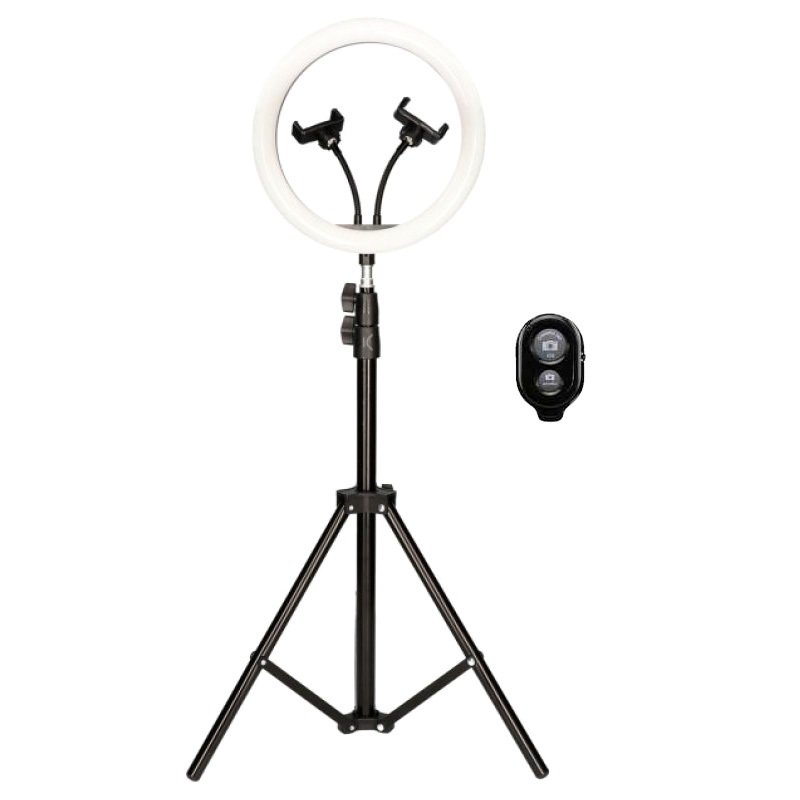 Sturdy design allows for high-quality film
The one other thing you need to get the perfect content is a sturdy filming surface. The lighting can be perfect, but if it's blurred or at the wrong angle, you may miss a vital moment. This tripod mount has been designed to be sturdy and therefore will stay secure on any surface, allowing your video content to be clear and without bumps.
Foldable construction for easy carrying and storing
Ideas to create can hit you anywhere, and at any time. To make sure you don't miss the moment, this tripod with LED light has been designed to be completely foldable, allowing you to take it with you in a bag - ready to take out when the idea hits you. All you need is a USB-A port to power up the LED light and away you go.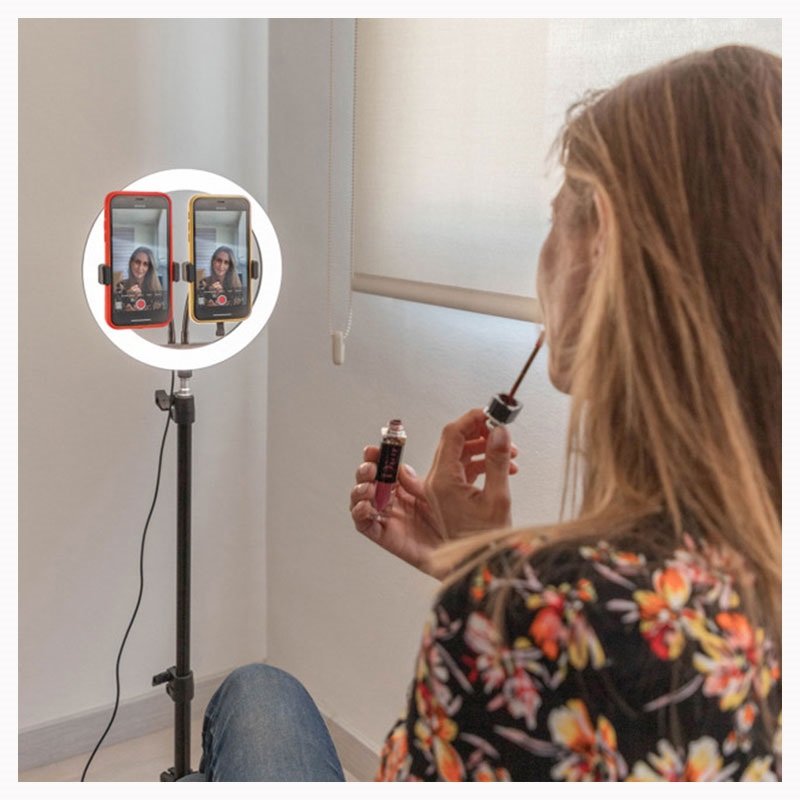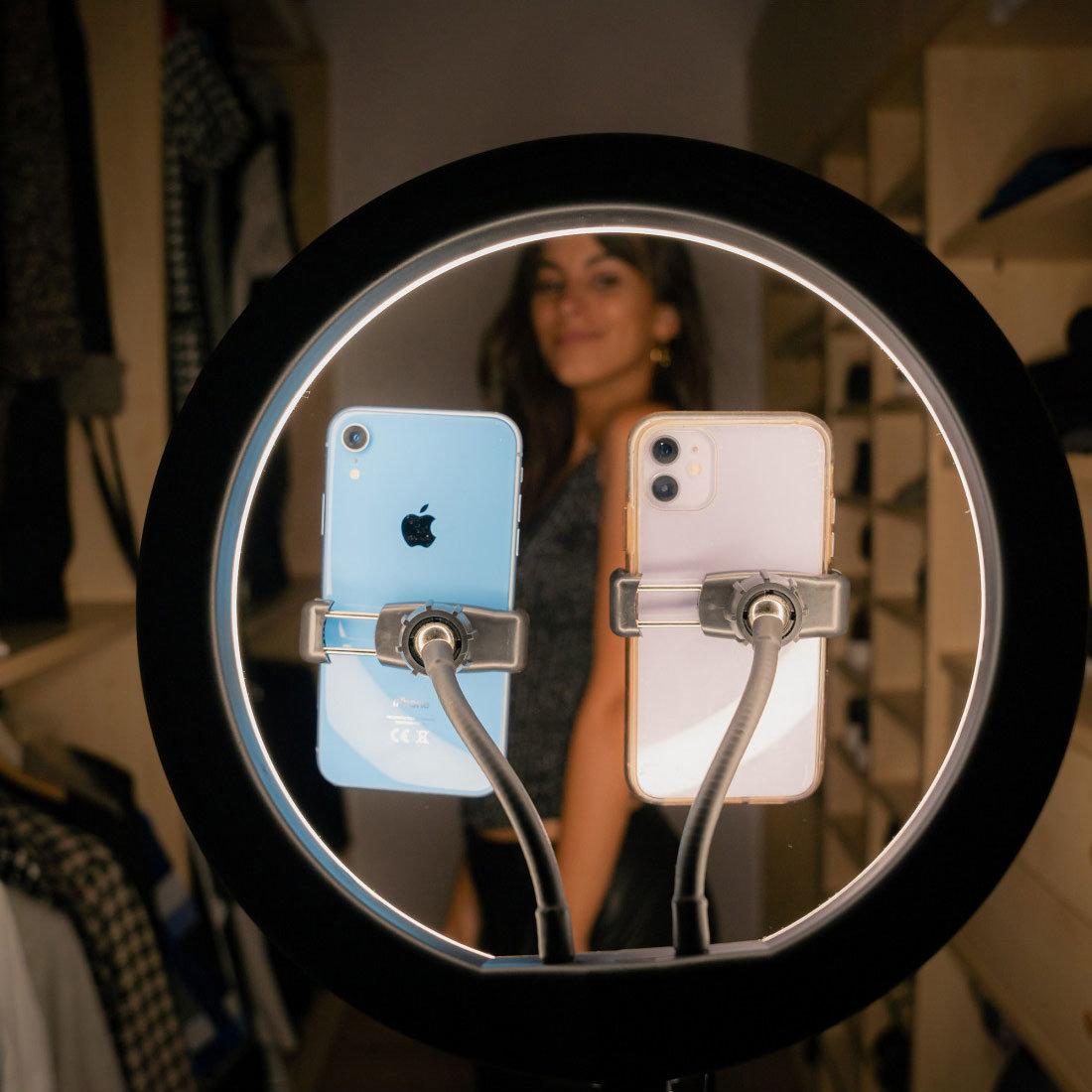 Wesentliche Details
| | |
| --- | --- |
| Part No | BXYOUTUB03 |
| UPC | 8427542114804 |
| Mobile Fun ID | 87739 |
| Farbe | Schwarz |
| Brand Name | KSix |
Lieferung & Retouren
Warensendung - Versandkosten: 4.99 CHF
Zustellung ab Versand: in 4-8 Werktagen.
DHL Express: 31.99 CHF
Zustellung ab Versand: in 1-2 Tagen bei Bestellung vor 17 Uhr


HINWEIS: Sie können die Standardzustellung nur mit einem Einkaufskorb unter CHF 70 auswählen. Ist dies der Fall, müssen Sie eine nachverfolgbare Zustellungsmethode auswählen.
Wenn Ihr Warenkorb über CHF 100 liegt, müssen Sie aus Sicherheitsgründen DHL Express wählen.