Official Sony 30W Fast Mains Charger & 1m USB-C Cable - UK - Black
This compact, Official Sony USB-C Plug & 1m USB-C to C cable offers 30W of fast charging to your device, allowing you to have battery within minutes. This is the exact charger & cable that comes with Sony devices, providing 100% safe & effective charging!
Key Features
Genuine Sony product
30W USB-C UK wall charger
1m USB-C to USB-C cable can be used to charge & sync data
PD, adaptive fast charging
Compact design allows you to take it on your travels
Beschreibung

*Please note: this product is 100% genuine but may not be shipped in official retail packaging.*
Charge your device safely, effectively & quickly with this sleek, black Official Sony 30W USB-C Mains Wall Charger & 1m USB-C to USB-C cable.
Genuine Sony product
The internet is flooded with cheap fake Sony chargers and cables that could damage your phone and possibly even cause injury to yourself and your family. At Mobile Fun we pride ourselves on only sourcing products from respected suppliers that have been authorised by Sony. So you can be sure of a top quality accessory that has been manufactured to Sony's recognised quality assurance for the best compatibility and most important of all - the best safety standards.
30W USB-C UK wall charger allows for fast charging of your Sony device
As technology develops, chargers do too. When combining the 30W mains charger with the USB-C to USB-C Cable, your Sony device can charge up to 80% faster - meaning you don't need to keep your device on charge overnight and damage the battery. Instead, you can plug it in when needed, get on with something else, and take it out less than 2 hours later. This time, extra power means less responsibility - what more could you want?
1m USB-C to USB-C cable can be used to charge & sync data
Charge your device and sync it to your laptop to back up, keeping your photos and device content safe. This also gives some versatility as if you have forgotten your Official Sony 30W Plug, you can still charge your device effectively without the need to always use the 30W power adapter.
Have more choice with Sony.
Adaptive fast charging
Fast charging uses battery charging technology that charges your Sony device battery faster by increasing the charging power however without damaging your battery. This charger is the exact same model that came with your phone, so makes an ideal spare or replacement. The 30W power ensures faster more reliable charging.
Compact design allows you to take it on your travels
The charger itself is very compact, easy to store & lightweight which makes it highly portable. Ideal for taking with you on holidays or short trips.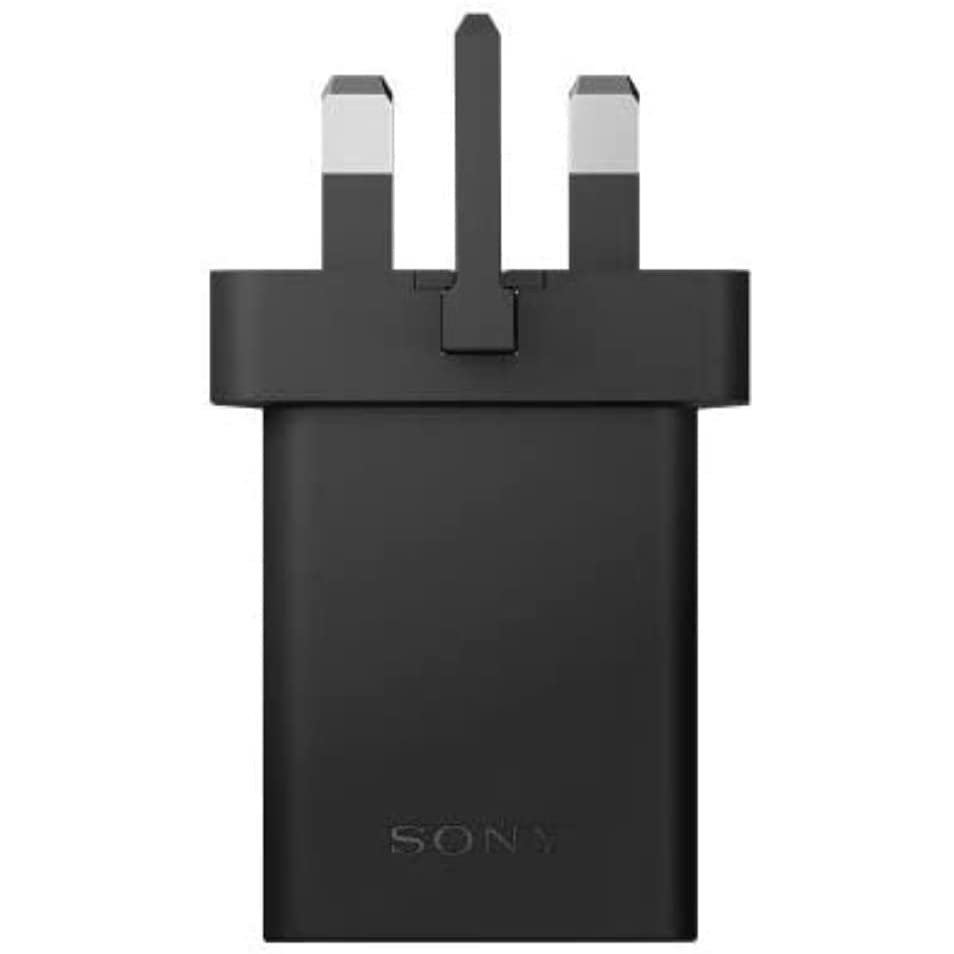 Technical specifications:
Input: AC 100-240V / 1.0A / 50-60Hz
Output: (PDO) 5V/3.0A, 9V/3.0A, 15V/2.0A, (PPS) 3.3V/3.0A - 16.0V/1.85A
Dimensions:
With PIN: 29.0 x 49.7 x 86.34 mm
Without PIN: 29.0 x 49.7 x 63.79 mm
Operating temperature range: 5℃ to +35℃
Wesentliche Details
| | |
| --- | --- |
| Part No | XQZUC1B.UK |
| UPC | 7311271701040 |
| Mobile Fun ID | 85498 |
| Farbe | Schwarz |
| Brand Name | Sony |
Lieferung & Retouren
Warensendung - Versandkosten: 4.99 CHF
Zustellung ab Versand: in 4-8 Werktagen.
DHL Express: 31.99 CHF
Zustellung ab Versand: in 1-2 Tagen bei Bestellung vor 17 Uhr


HINWEIS: Sie können die Standardzustellung nur mit einem Einkaufskorb unter CHF 70 auswählen. Ist dies der Fall, müssen Sie eine nachverfolgbare Zustellungsmethode auswählen.
Wenn Ihr Warenkorb über CHF 100 liegt, müssen Sie aus Sicherheitsgründen DHL Express wählen.
Kompatibilität
Sony:
acro S
,
Xperia 1
,
Xperia 1 II
,
Xperia 10
,
Xperia 10 II
,
Xperia 10 Plus
,
Xperia 5
,
Xperia 5 II
,
Xperia 5 III
,
Xperia 5 Plus
,
Xperia A2
,
Xperia A4
,
Xperia C
,
Xperia C3
,
Xperia C4
,
Xperia C5 Ultra
,
Xperia E
,
Xperia E1
,
Xperia E3
,
Xperia E4
,
Xperia E4g
,
Xperia E5
,
Xperia go
,
Xperia J
,
Xperia L
,
Xperia L1
,
Xperia L2
,
Xperia L3
,
Xperia L4
,
Xperia M
,
Xperia M Dual
,
Xperia M2
,
Xperia M2 Aqua
,
Xperia M4 Aqua
,
Xperia M5
,
Xperia Miro
,
Xperia P
,
Xperia PRO
,
Xperia S Tablet
,
Xperia SL
,
Xperia Sola
,
Xperia SP
,
Xperia T
,
Xperia T2 Ultra
,
Xperia T2 Ultra Dual
,
Xperia T3
,
Xperia Tipo
,
Xperia tipo dual
,
Xperia TX
,
Xperia U
,
Xperia V
,
Xperia X
,
Xperia X Compact
,
Xperia X Performance
,
Xperia XA
,
Xperia XA Ultra
,
Xperia XA1
,
Xperia XA1 Plus
,
Xperia XA1 Ultra
,
Xperia XA2
,
Xperia XA2 Plus
,
Xperia XA2 Ultra
,
Xperia XA3
,
Xperia XA3 Ultra
,
Xperia XL
,
Xperia XZ
,
Xperia XZ Premium
,
Xperia XZ1
,
Xperia XZ1 Compact
,
Xperia XZ2
,
Xperia XZ2 Compact
,
Xperia XZ2 Premium
,
Xperia XZ3
,
Xperia XZ4 Compact
,
Xperia XZs
,
Xperia Z
,
Xperia Z Tablet
,
Xperia Z Ultra
,
Xperia Z1
,
Xperia Z1 Compact
,
Xperia Z1f
,
Xperia Z1S
,
Xperia Z2
,
Xperia Z2 Tablet
,
Xperia Z3
,
Xperia Z3 Compact
,
Xperia Z3 Tablet Compact
,
Xperia Z3+
,
Xperia Z4 Tablet
,
Xperia Z4 Ultra
,
Xperia Z5
,
Xperia Z5 Compact
,
Xperia Z5 Premium
,
Xperia ZL
,
Xperia ZL2
,
Xperia ZR
,
Z2a Compact