Olixar 100W 1.5m Braided USB-C to C Charge & Sync Cable - Black
Charge your Android and Apple USB type C devices at impressive speeds with this Olixar 100W USB-C 1.5m cable. What's more, quickly sync & transfer data up to 480 Mbps! Features a durable braided design to prevent breakage and keep your cable tangle free.
Frequently bought together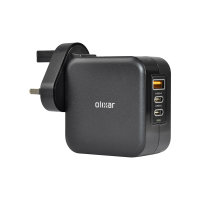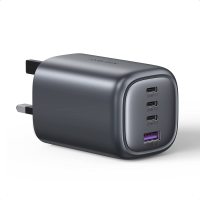 Key Features
Charges varied range of devices
USB-C for faster charging
1.5m length
Charge and sync
Designed specifically for 100W power
Braided design avoids tangling & breakage
Adapts to your device
Beschreibung

With the 100W USB-C to C charging cable, you can charge your device quickly - allowing you to get that submission out and go out with your friends faster, secure in the knowledge that your phone will have a charge for your next adventure.
Charges varied range of devices
A great benefit of the USB-C to C cable is that it can charge a range of devices. This includes many Android devices, the iPad Air 4, iPad Pro and post-2017 Macbooks. This means that you can just carry one cable around with you to charge numerous of your devices.
USB-C for faster charging
Combining the 100W charging cable with a USB-C charger, your phone can charge up to 5x faster - meaning you don't need to keep your phone on charge overnight and damage the battery. Instead, you can put it on when needed, get on with something else, and take it out less than 2 hours later. This time extra power means less responsibility - what more could you want?
1.5m length
Imagine what you can do with a 1.5m braided, durable cable that you couldn't before. You can toss and turn in bed, whilst keeping your iPad, Android or iPhone on charge. Or, if you're at a hotel and they don't have plugs near your bed, this lead may be able to reach your bed, allowing you to charge your phone comfortably.
Charge and sync
Not only can this device be used to charge your Macbook, it can also be used to charge and sync your device to your laptop. This helps provide an extra level of security for your phone, as your photos and videos will also be on your laptop - so if anything happens, you've always got a backup.
Designed specifically for 100W power
USB-C circuit boards are specially designed to carry this increased wattage without being damaged or overheating, for enhanced safety for users and their devices.
Braided design avoids tangling & breakage
This Olixar braided cable has been designed to be long-lasting and durable. The braided design helps avoid tangling and breakage, allowing you to charge your device at any angle, without putting strain on the charging port.
Adapts to your device
Whether you're charging a Macbook or an Android device, the USB-C technology will adapt to the device providing great versatility and allowing you to use the cable on many of your devices. So, if your device is an 18W device, it will adapt to provide 18W, if your new iPad is 27W then it will provide 27W or if your Macbook is 100W, it will give 100W of power. This ensures fast charging, without delivering too much power which could damage the circuitry.
*Note: This is just a charging cable - it still needs inputting into a USB-C charger*
Wesentliche Details
| | |
| --- | --- |
| Part No | OLX-86746 |
| UPC | 5056208178619 |
| Mobile Fun ID | 86746 |
| Farbe | Schwarz |
| Brand Name | Olixar |
Lieferung & Retouren
Warensendung - Versandkosten: 4.99 CHF
Zustellung ab Versand: in 4-8 Werktagen.
DHL Express: 27.99 CHF
Zustellung ab Versand: in 1-2 Tagen bei Bestellung vor 17 Uhr


HINWEIS: Sie können die Standardzustellung nur mit einem Einkaufskorb unter CHF 70 auswählen. Ist dies der Fall, müssen Sie eine nachverfolgbare Zustellungsmethode auswählen.
Wenn Ihr Warenkorb über CHF 100 liegt, müssen Sie aus Sicherheitsgründen DHL Express wählen.


Notiz:
Die voraussichtlichen Ankunftszeiten werden direkt den Angaben unserer Kuriere entnommen. Dies sind nur Schätzungen, MobileFun ist nicht verantwortlich, wenn dies variiert. Alle Produkte werden aus unserem Lager in Großbritannien versendet. Fehlende oder verspätete Artikel: Bitte beachten Sie, dass wir 20 Arbeitstage warten müssen, bevor wir verlorene Artikel zurückverfolgen, ersetzen oder erstatten können. Der Postdienst steht für Bestellungen mit hohem Wert nicht zur Verfügung, es wird die Expressversandmethode angewendet.