Olixar 65W GaN Dual USB-C & USB-A Super Fast PD International Mains Charger
Due to GaN technology, you can charge super-fast any USB-A & USB-C compatible devices including laptops, tablets & phones using just this one charger from Olixar. Comes with US/UK/EU plug, so this international USB-C 65W charger is perfect for travelling.
Frequently bought together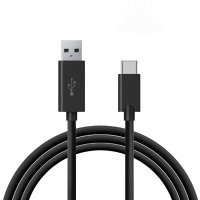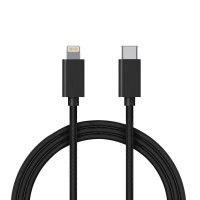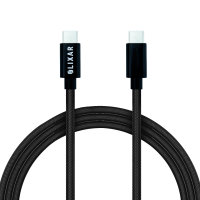 Key Features
GaN technology: super-fast charging
2 USB-C charging ports
1 USB-A charging port
Built in US & EU plug
Travel friendly compact design
Unparalleled compatibility: charge all your devices
Beschreibung

Take your charging to the next level with this stunning, Olixar 65W GaN USB-C & USB-A PD charger. It brings the convenience of fast, powerful, and safe charging into an ultra-compact design. Ideal for travel, home or office, you'll be able to charge your laptop, tablet, smartphone, or other USB-C devices all at once, with a single powerful charger! Invest now to save later with Olixar's high-quality, fast-charging multi-port GaN charger.
GaN technology: super-fast charging

Gallium nitride, or GaN, is a material that's used for semiconductors in chargers. Its crystal-like material is capable of conducting far higher voltages, whilst producing less heat due to being so efficient. Less heat means components can be closer together, so a charger can be smaller than ever before—while maintaining all the power capabilities and safety standards!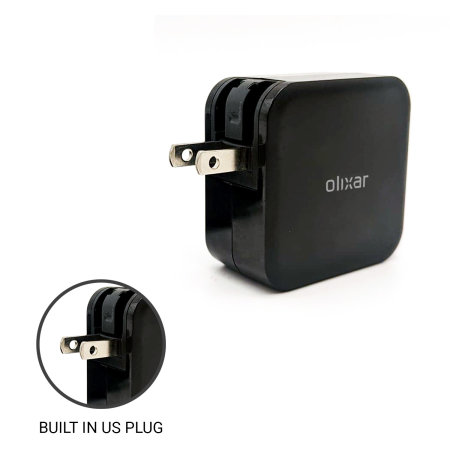 2 USB-C charging ports
Have an iPhone, Android or Pixel device? You can fast charge them at once using the 2 USB-C Charging ports! All you need is a compatible USB-C to C cable for Android & Pixel devices or iPads / other tablets or a USB-C to Lightning for iPhones. This can even work to fast charging Kindles, Nintendo Switches & gaming controllers (like a PS5 controller).
1 USB-A charging port
This USB-A port can be used to charge any USB-A, Lightning or USB-A to USB-C compatible device, including the majority of phones, tablets, laptops and MacBooks! Whatever your device, be able to fast charge it with Olixar.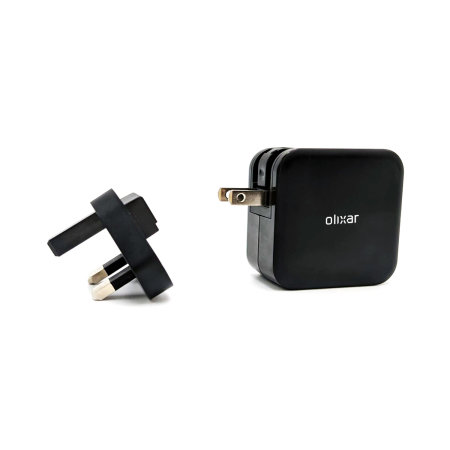 Built-in US and EU plugs
The Olixar GaN charger has been designed with ease of travel in mind, just slide off the UK plug at the end of the charger and use the US or EU pins that are hidden underneath. You don't have to clutter your luggage with cumbersome adapters anymore, just use the Olixar 65W GaN charger instead.
Travel friendly compact design
At just 5.8 cm and 160 grams, the Olixar GaN Charger takes being compact to the next level! The durable, sleek, black design makes it perfect for putting it in your bags and for storage to take with you on your travels. Not only this, but the compact design allows the plug to fit into tight spaces allowing you to gain full access to plugs and sockets.
Unparalleled compatibility: charge all your devices
The Olixar GaN Mains Charger is highly convenient in design allowing you to charge the majority of your devices quickly and conveniently. You can charge your phone along with other devices that charge via USB-C cable including Android, Google, Nokia & more, as well as your laptops, consoles, tablets and Macbooks! Fast charging capabilities are also available for your iPhone using a compatible USB-C to Lightning Cable.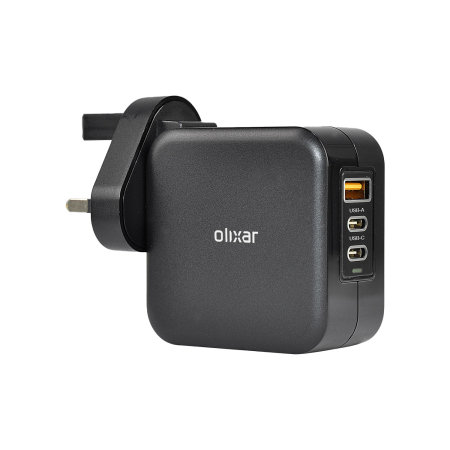 For more information on GaN chargers & their benefits, please read the blog here
Technical Specifications:
Input: 100-240V, 60Hz/50Hz, 1.5A Max
Output:
USB-A: 4.5V5A / 5V4.5A / 9V3A / 12V2.5A / 20V1.5A (Max 30W)
USB-C (C1 & C2): 5V3A / 9V3A / 12V3A / 15V3A/ 20V3.25A / 3.3-21V3A (Max 65W)
If using all 3 at once, the maximum output is 63W.
Size: 58x58x31mm
Weight: 160grams
Was befindet sich in der Box?
1 x Olixar 65W GaN mains charger with UK plug
1 X US plug
1 X EU plug
Wesentliche Details
| | |
| --- | --- |
| Part No | OLX-85220 |
| UPC | 5056208162649 |
| Mobile Fun ID | 85220 |
| Farbe | Schwarz |
| Brand Name | Olixar |
Lieferung & Retouren
Warensendung - Versandkosten: 4.99 CHF
Zustellung ab Versand: in 4-8 Werktagen.
DHL Express: 27.99 CHF
Zustellung ab Versand: in 1-2 Tagen bei Bestellung vor 17 Uhr


HINWEIS: Sie können die Standardzustellung nur mit einem Einkaufskorb unter CHF 70 auswählen. Ist dies der Fall, müssen Sie eine nachverfolgbare Zustellungsmethode auswählen.
Wenn Ihr Warenkorb über CHF 100 liegt, müssen Sie aus Sicherheitsgründen DHL Express wählen.


Notiz:
Die voraussichtlichen Ankunftszeiten werden direkt den Angaben unserer Kuriere entnommen. Dies sind nur Schätzungen, MobileFun ist nicht verantwortlich, wenn dies variiert. Alle Produkte werden aus unserem Lager in Großbritannien versendet. Fehlende oder verspätete Artikel: Bitte beachten Sie, dass wir 20 Arbeitstage warten müssen, bevor wir verlorene Artikel zurückverfolgen, ersetzen oder erstatten können. Der Postdienst steht für Bestellungen mit hohem Wert nicht zur Verfügung, es wird die Expressversandmethode angewendet.