Scosche BaseLynx 18W PD USB-C & USB-A Dual Charging Ports EndCap
Complete your BaseLynx module with this fast charging dual port EndCap. With a 18W PD USB-C port and a 12 USB-A port, you can charge your devices up to 3x faster than with standard chargers. Charge a range of devices safely & effectively with Scosche.
Frequently bought together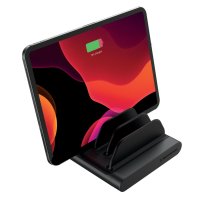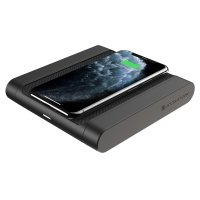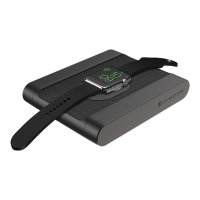 CHF 33.49
Statt
CHF 66.49
Key Features
1 USB-A 12W Ports & 1 USB-C PD 18W Port
Power Delivery 3.0
Ideal for use at work or at home
Declutter your space
Compact and light design that's ideal for use at home or on the go
Attach to other BaseLynx products
Beschreibung
Complete your BaseLynx module with this high-quality dual port EndCap. This EndCap features a 18W USB-C & a USB-A port which will safely and effectively charge two devices at once!
1 USB-A 12W Ports & 1 USB-C PD 18W Port
This Scosche BaseLynx EndCap in black offers a phenomenal 30W to charge your devices. The 18W PD USB-C port can charge your device up to 4x faster than the typical 5W charger, whilst the 12W USB-A ports offer amazing charging speeds also. As the device offers 30W of power, you don't have to worry that having 2 devices charging at once will slow down the others charging speeds.
Power Delivery 3.0
The USB-C port features Power Delivery (PD) 3.0, which allows you to charge your smartphone, tablet or any other USB-C device to 70% in just 30 minutes. Providing up to 3X more power than a standard USB port, this Scosche Baselynx Charging Station will ensure that your battery is charged and ready to go in no time at all.
Ideal for use at work or at home
As more move to working from home, this allows for a completely seamless charging experience. It can charge a wide range of devices, so long as they have a USB-C or USB-A port (as the vast majority of tech accessories & devices do) including tablets, Samsung devices & earbud chargers. Make your space less cluttered, freeing your mind to focus on your work with Scosche.
Declutter your space
Rather than having numerous wires for each device charging, with this BaseLynx, you just need to have the wire that the EndCap comes with. This allows your space to look a lot more organised, rather than having wires that may tangle or take up unnecessary room. Feel calm and decluttered with this stunning, black BaseLynx EndCap from Scosche.
Compact and light design that's ideal for use at home or on the go
Perfect for use at home, in the office or on your travels, the BaseLynx vertical charging station from Scosche can be taken anywhere thanks to a lightweight and ergonomic design. Ideal for travelling where USB ports and sockets may be limited, the Schosche BaseLynx EndCap gives you the power to keep 2 of your devices fully charged, ready for the day ahead.
Modern design fits perfectly with any environment
The sleek designs allows the Scosche BaseLynx EndCap will blend in to any surroundings, making for a stylish, yet discrete charger that will compliment both the devices it's charging and the room it finds itself in.
Attach to other BaseLynx products
Designed to meet your current organizational and charging needs, the BaseLynx black wireless smartphone charging pad also provides the flexibility to add, subtract, and rearrange elements to suit your future needs. Whether you want to add the vertical charging station or the Apple Watch charging station - connect them altogether to create the ultimate charging station.

Technical specifications:
• Input : 100VAC–240VAC~50/60Hz 2.5A
• Output: USB-A: 5VDC --- 2.4A, 12W / USB-C: 5VDC --- 3A, 9VDC --- 2A,18W
Wesentliche Details
| | |
| --- | --- |
| Part No | BLPEINTL-SP5 |
| UPC | 0033991084377 |
| Mobile Fun ID | 84582 |
| Farbe | Schwarz |
| Brand Name | Scosche |
Lieferung & Retouren
Warensendung - Versandkosten: 4.99 CHF
Zustellung ab Versand: in 4-8 Werktagen.
DHL Express: 27.99 CHF
Zustellung ab Versand: in 1-2 Tagen bei Bestellung vor 17 Uhr


HINWEIS: Sie können die Standardzustellung nur mit einem Einkaufskorb unter CHF 70 auswählen. Ist dies der Fall, müssen Sie eine nachverfolgbare Zustellungsmethode auswählen.
Wenn Ihr Warenkorb über CHF 100 liegt, müssen Sie aus Sicherheitsgründen DHL Express wählen.


Notiz:
Die voraussichtlichen Ankunftszeiten werden direkt den Angaben unserer Kuriere entnommen. Dies sind nur Schätzungen, MobileFun ist nicht verantwortlich, wenn dies variiert. Alle Produkte werden aus unserem Lager in Großbritannien versendet. Fehlende oder verspätete Artikel: Bitte beachten Sie, dass wir 20 Arbeitstage warten müssen, bevor wir verlorene Artikel zurückverfolgen, ersetzen oder erstatten können. Der Postdienst steht für Bestellungen mit hohem Wert nicht zur Verfügung, es wird die Expressversandmethode angewendet.