Ultimate Outdoor Bundle: Hat with Rechargeable LED Headlamp Light & Olixar Touch Screen Smart Gloves
This bundle has been specifically designed with the outdoors at night in mind. The Olixar Smart Gloves help you operate your device at even the lowest temperature while the beanie lights up your way no matter where you are! Feel protected with Olixar.
Key Features
Perfect accessory when you're in the dark
4 high-powered LED lamps for a total of 150 lumens
3 modes of intensity
Perfect for late night or winter running
"One size fits all" for everyone
Up to 4 hours use on a single charge
Fully rechargeable battery
Tailored and snug-fitting elastic gloves
Gloves allow you to operate your touchscreen device
Beschreibung
Perfect accessory bundle when you're in the dark
Whether you're exploring spooky forests in the dark, or navigating your way around outdoors, the hat and glove bundle is the perfect pack for lighting your path wherever you go while the Olixar Smart Gloves keep your hands warm and give you the ability to use your phone.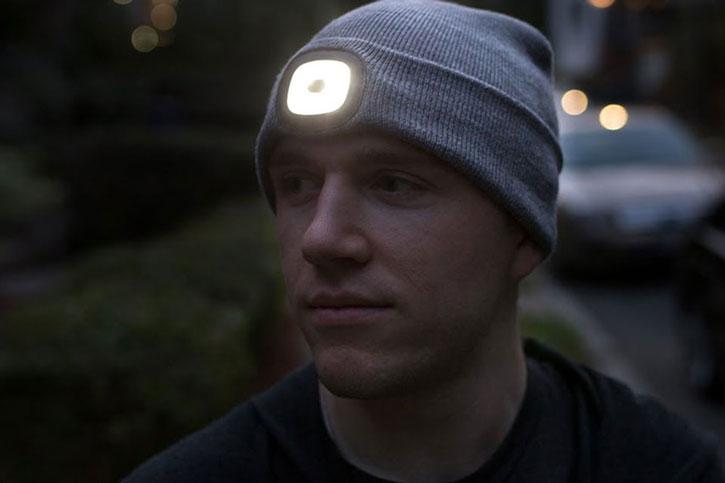 4 high-powered LED lamps for a total of 150 lumens
We've all been there - trying to find our way back to our tent after our favourite band has ripped up the main stage at a festival, or attempting to retrace our steps to get back to civilisation after a jaunt exploring nature. If you're wearing this hat, you won't need to worry about pathfinding again. 4 ultra-high powered LED SMD lamps combine in the front panel of the hat to create a dazzling beam of 150-lumen strong light which will illuminate every inch of the path before you.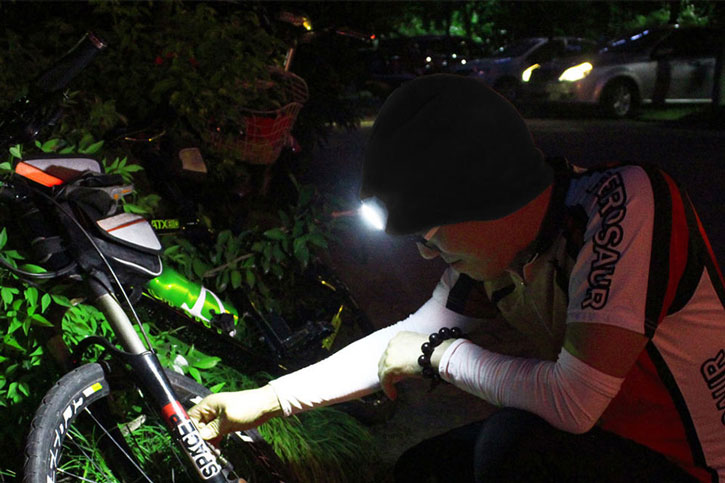 3 modes of intensity
With a single button press, you can switch between three different levels of light intensity - after all, you won't always need as much power as the hat is capable of outputting. Find your way through the darkest of thickets, or just illuminate your way to the bathroom in the middle of the night!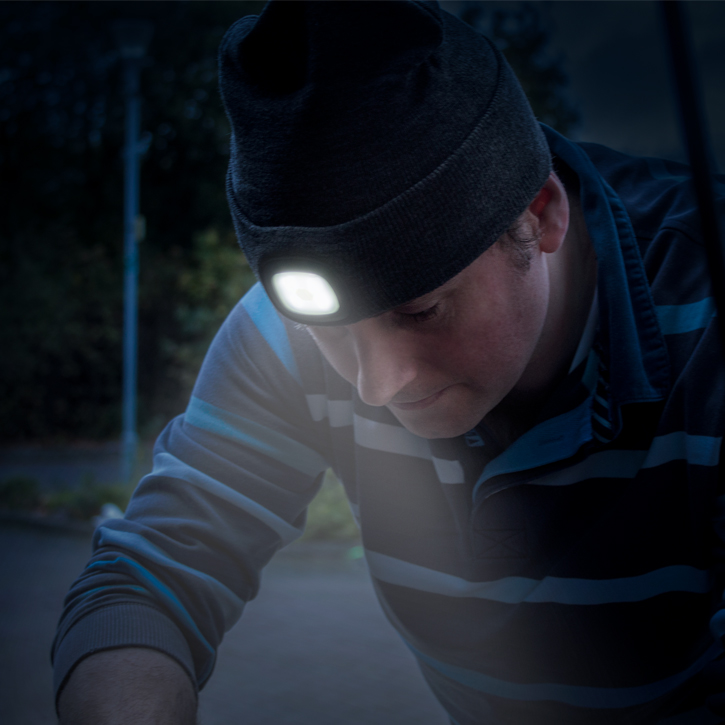 Perfect for late night or winter running
Lots of people prefer to run in the evening or even at night, when nobody else is around - you might even be one of them. If you are, this hat will be invaluable for you, especially in the colder months - you can light your way down even the most remote running route, while also keeping yourself safe, warm and illuminated.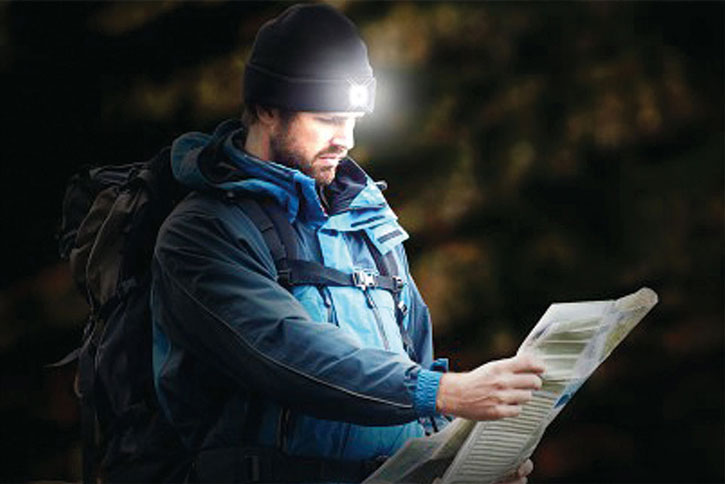 "One size fits all" for everyone
No matter your gender, size or the shape of your head, this hat will be perfect for you thanks to its one-size-fits-all structure.
Up to 4 hours use on a single charge
Leave the house prepared and you won't regret it - the Bright-i gives you up to 4 hours of use on a single charge, which should be more than enough for even the most demanding hikes, runs and excursions.
Fully rechargeable battery
You'll never need to run out of juice while you're out and about thanks to Bright-i's rechargeable lithium polymer battery. The light section of the hat ingeniously detaches from the main body, allowing you to simply connect the light directly to a powered USB port (mains, laptop, etc) to restore your light to full power.
Tap, pinch and scroll on your touchscreen device while wearing gloves
The biggest problem with today's phones is that you can't use them while wearing traditional gloves, but with the Olixar Smart Gloves you can! Keep your hands warm and tap, pinch and scroll on your touchscreen device just as you would with no gloves on.
Conductive thread woven into the fingertips of the glove
The special conductive material woven into the thumb, index, and middle finger, enables you to operate your touchscreen device. Ideal for use with smartphones, iPhones, iPads, GPS Systems, and pretty much any touchscreen device you can literally get your hands on.
Comfortable and elasticated cuffs
The
Olixar Smart Gloves'
cuffs have elastic properties and will stretch to fit your hand size, giving you a tailored and snug fit, stopping the cold air to seep in and the warm air to seep out of the gloves.
Keep your hands warm
The Olixar gloves are made with premium materials, blending technology and comfort into a glove that is softer and warmer than your typical knitted glove.
Enhanced Grip
The Olixar Smart Touch Screen Gloves are equipped with an enhanced rubberised grip along the palm of the gloves to ensure that you have minimal chance of dropping your phone.
Specifications:
Material iBenie: 65% polyester, 35% acrylic
MaterialsAcrylic - 84%, Spandex - 10%, Conductive Fibers - 6%
Battery: Lithium-Polymer
Capacity:
Power: 150 lumens
Was befindet sich in der Box?
1 pair X 70636 - Olixar Touch Screen Smart Gloves - Dark Grey
1 x Bright i-Beanie Hat with Rechargeable LED Headlamp Light
Wesentliche Details
| | |
| --- | --- |
| Part No | Echo Three Bright-I Beanie-OLX GLOVES |
| Mobile Fun ID | 91932 |
| Farbe | Grau |
| Brand Name | Echo Three |
Lieferung & Retouren
Warensendung - Versandkosten: 4.99 CHF
Zustellung ab Versand: in 4-8 Werktagen.
DHL Express: 27.99 CHF
Zustellung ab Versand: in 1-2 Tagen bei Bestellung vor 17 Uhr


HINWEIS: Sie können die Standardzustellung nur mit einem Einkaufskorb unter CHF 70 auswählen. Ist dies der Fall, müssen Sie eine nachverfolgbare Zustellungsmethode auswählen.
Wenn Ihr Warenkorb über CHF 100 liegt, müssen Sie aus Sicherheitsgründen DHL Express wählen.


Notiz:
Die voraussichtlichen Ankunftszeiten werden direkt den Angaben unserer Kuriere entnommen. Dies sind nur Schätzungen, MobileFun ist nicht verantwortlich, wenn dies variiert. Alle Produkte werden aus unserem Lager in Großbritannien versendet. Fehlende oder verspätete Artikel: Bitte beachten Sie, dass wir 20 Arbeitstage warten müssen, bevor wir verlorene Artikel zurückverfolgen, ersetzen oder erstatten können. Der Postdienst steht für Bestellungen mit hohem Wert nicht zur Verfügung, es wird die Expressversandmethode angewendet.